I'm not sure that's a word. But hell, that's never stopped me before.
I finished my practice mobius yesterday. I decided that I needed to be totally familiar with the basic concept before I attempted my olympic pattern.
I think it went quite well, especially considering the longest circular I could find was 30" (I have a very limited choice, particularly for bamboo needles, in this town).
I used up the half ball of andean silk in lettuce from my hoodie. Right now, it's basically a plaything for my 3 year old. But if he ever gives it back, I may try to felt it into a headband.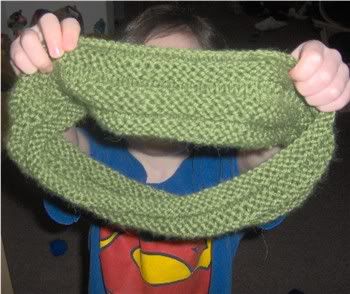 I started knitting in plain stockinette, and realised quickly that in mobius knitting that results in a strip that is split horizontally through the middle, with half being the RS and half being the WS. It was actually a pretty neat effect, so after about 5 rows, I turned my needles the other way, so I k the ps and p the ks, and got a cool striped/rib effect. You can see it better in this picture.
I'm still trying to get my hands on a copy of Cat's book (again, stupid small-town-no-book-nor-bamboo-needle-having-crap), and I'll probably have to wait until I go to Toronto next and pick it up at Village Yarns (which was where I saw it the first time, and now I'm cursing myself for not buying it right then).
Olympics start tomorrow. I will be tracking my progress on the Sybermom Yarn Whores knitting blog. Good luck everyone.