I'll leave the extra 'F' up to your imagination.
This is it. This is all my holiday knitting, with the exception of a hat for my husband (which has been a nightmare involving the brioche stitch and earflaps- don't ask).
First, a bag for my dad. This was the first present I knit, in June, I think. I still haven't felted it yet.
These are a pair of
knucks
for my brother. They were fun to knit. I have plans to make several more pairs- um, eventually.
These are mittens for my brother-in-law. His hands are not, to my knowledge, two different sizes. I have no excuse for why the mittens are. I'm fully prepared to rip one back and make it smaller if I need to, but I'm sort of hoping he won't notice.
A wine cozy for my father-in-law. He likes wine. Maybe this was a bit of a cop-out. My husband got him a $60 flag from his university, so that should make up for it.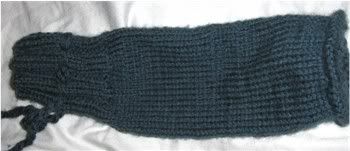 The only person not getting a knitted gift from me is my mom. I was going to make some felted mobius bowls, but I didn't get my book back in time. Instead, she is getting a record by Jonathan and Darlene Edwards. Yes, an actual vinyl record. Very retro.
My kids are not getting knitted gifts because they grow too damn fast and like to paint and play in mud puddles. They are getting toys. I don't think they'll be too disappointed.