More of them than I usually have at once. Four of them, which may be insignificant for some, but i tend to be fairly single-minded, so I'm finding this pretty cool. The truly remarkable thing is that they are all actually
in progress
, all at once. Shocking, no?
First is my Hourglass sweater in Malabrigo. I did end up frogging the sleeves, after I washed and measured them and used them as swatches (see, it wasn't a total waste). Then I started on the body instead of the sleeves, because I have a really hard time ripping out something and then re-knitting the exact same thing immediately. It makes no difference in the long run, but it seems to help psychologically.
Here's the finished body (up to where you do the raglan shaping):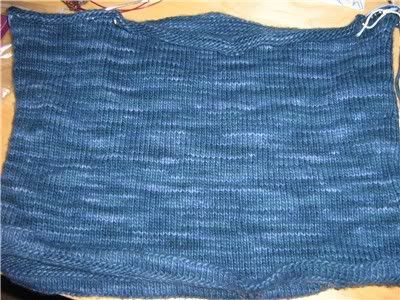 And the sleeves in progress now: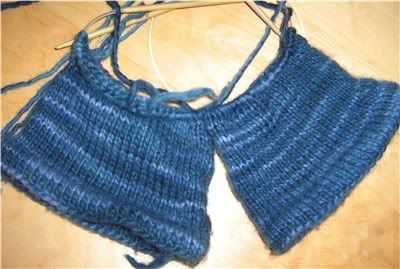 I not only started with a lot fewer stitches than before, but I am not doing the full belled sleeve. I'm only doing one decrease between the wrist and arm sections. I think that the cushy thickness of the finished material makes the bells much clunkier than is really practical.
The rumple scarf is still on needles. It's taking it's time, because, well, it's a scarf, and it's mostly my take-along project because it is brainless and can be put down anywhere. And thus it gets put down a lot. But I think it is almost done. I will say, I got a heck of a lot of yardage out of this kit: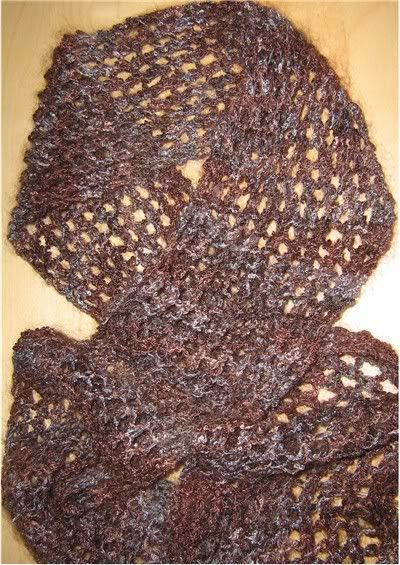 Pretty no? Only one tiny issue. About it being 'brainless'- sometimes that leads to the most brainless mistakes.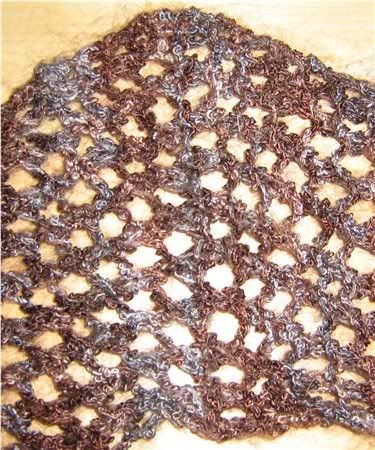 I must've knit two plain rows instead of alternating with the YO row at this point. I didn't even notice until I had knit a good 5 inches past this point. So frogging it was completely out of the question. The good thing is that it seems to be landing itself smack in the middle of the scarf (or close enough anyway). So I may actually be able to pass it off as a creative design alteration, rather than a flaw. Yay creativity!
The cashmere/silk is making it's way into a lovely Diamond Fantasy shawl/scarf. I love the way the colours are lining up, I love the look of it, the feel of it, it's absolutely luscious. The only issue I'm having is that the yarn feels really really fragile, like if I pull it too hard it will just snap. Because of this, it's all coming out a little loose, and progress is really slow because I'm terrified of making a mistake, and I don't think the yarn would hold up very well to frogging.
But man is it lovely, even if it wouldn't stay flat for the photo: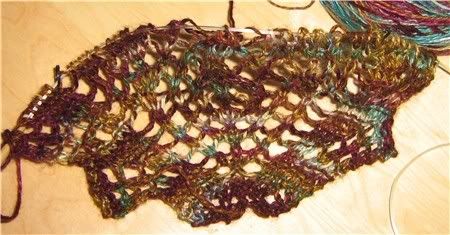 Last thing I'm working on at the moment is a pair of socks for dh. I'm using a ball of
Lana Grossa
that I won as a door prize at my LYS holiday party. I've never been particularly drawn to these kinds of sock yarns (the 75/25 wool/acrylic blends) because they always seem terribly scratchy when they're wound into a ball*. But dh is less picky than I am, and as I'm knitting them up, I'm finding the scratchiness quite tolerable, and the finished fabric is really nice. I'm also using my new knitpicks circulars on these (not the options, since they don't come in 2 and 2.5mm sizes) and I'm smitten. The metal needles aren't bugging me as much as they have in the past- probably because they are so slidy- and the cord is amazingly flexible. These would be fantastic for magic loop.
I'm doing these toe-up, two at once, which I think is going to be my technique of choice for socks for a while. Avoids second sock syndrome, and all that counting of rows, and there's less yarn waste. And because I bought the knitpicks needles instead of getting bamboos or addis at my LYS, I got 4 sets of needles (two of each size) for the cost of maybe 2 bamboo sets, or one and a quarter addis. Wheee!
*(I tried to explain this to dh last night, but unfortunately my choice of words was "scratchy in the balls" and we were too hysterical to form a complete sentence for a good hour after that, because we are both 12)