Sometime this summer I decided to knit all my x-mas gifts for my family this year. I thought it would be fun to do a lace weight shawl for my MIL, both because she is probably the only person I know who would wear one, and because I had just finished a worsted weight lace project, and I wanted to try the real thing.
Sometime in June, I picked up some Misti Alpaca and the pattern for the Icarus shawl from Interweave Knits (many thanks to the woman at
Lettuce Knit
who set me up). I know that it was June, because I took this picture on June 19th, to show off a few days (weeks? I can't remember) of progress:
Now here we are, exactly 5 months after that picture was taken, and we have this: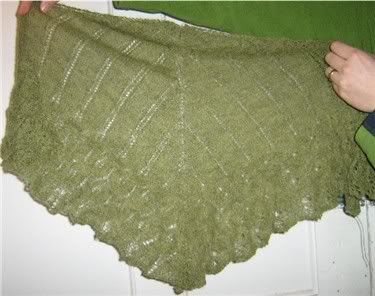 I am fantastically proud of myself. Now I just need to find a place to block it that is safe from children and cats. Ummm, yeah.
Oh, in case you can't tell, that is not a full-sized Icarus. I skipped a couple repeats of the rather tedious first chart. I think my MIL would get more use out of it as shawlette (shawlini?), plus it meant she would actually get it for x-mas. Bonus.