Before I get too far into the new year, I have to update on my last few FOs of 2006. I would like to add that I finished ALL of my gifts well before the 24th, thank you very much. I am very proud of myself.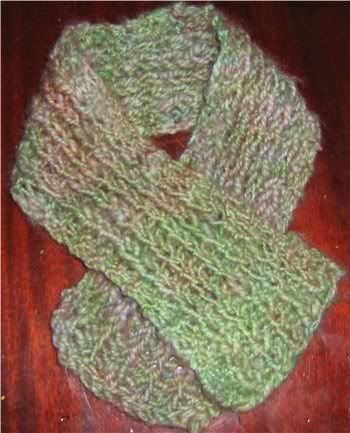 This is the scarf from the hand spun wool that was roving that belonged to my grandmother-in-law (follow that?). I re-dyed it, because I found the bright green to be a bit garish for granddad. The colour looked a lot nicer in person than it does in the picture.
A felted bowl, made from a skein of Noro, for my mom. She's using it to keep my grandma's glasses in, so she can find them easily. I love making useful things.
In other FO news, I finally (finally!) finished the broadripple socks that I started...ooh, when was it? When my youngest was about 3 months old? Yeah, he'll be two this month. That was pathetic. And while they are lovely socks, I am so sick of working on them that I didn't even want to keep them for myself. Luckily, I have a beautiful friend whose birthday is this month, and she has small feet like mine. Also, she's allergic to wool, and since these socks are made from cascade fixation, it's all good. They are currently en route to her in Germany. In my haste to send them off, I forgot to take a picture of the pair. Well, go back to my first blog posts, there's a picture there of one of them, almost finished. The other one? Looks just like it. You'll have to imagine the toe though.
I will also update that everyone loved their knitted gifts. They all think I am incredibly talented and creative. Well maybe I am.