All I wanted for the holidays was yarn, or money with which to acquire yarn, or roving which I could spin into yarn. Santa (and my relations) were all extremely good to me in this respect.
My darling husband bought me two gorgeous balls/lumps/pillows of roving. A 100% shetland in 'espresso', a very very dark brown, and a 70% shetland, 30% alpaca in 'oatmeal'. I never realised just how much I loved the natural colours of fibres. I could just sit and stare at it all day. I spend an inordinate amount of time over the holidays just squishing it.
Of course, colours not always found in nature are also quite appealing. So with some of my festive funds, I purchased some merino/silk roving too. I was almost swayed by the alpaca/silk as well, with beautifully contrasting colours (Think darkest brown alpaca streaked with copper-coloured silk. Black streaked with nearly iridescent red. Caramel streaked with gold. Now wipe the drool off your chin). Alas, at $10/oz, it was well beyond my reasonable budget. But don't get me wrong, the merino/silk is very nice. Don't you think?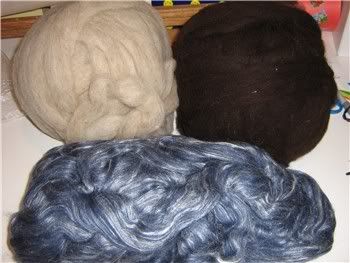 But my real holiday treat was the boxing day sale at 'Lettuce Knit' in Toronto. 30% off. It may not sound like a lot, but it was apparently all that was standing between me and a whole buttload of Fleece Artist/Handmaiden yarn.
Merino socks- haven't decided on a pattern yet. I just want to swim in it.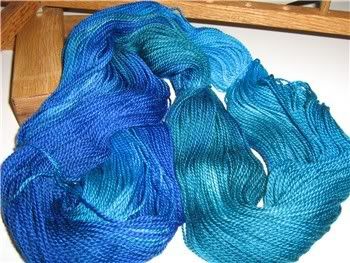 Silk Rumple and Angel Hair (mohair/nylon). Part-way towards becoming a beautiful bias lacy scarf.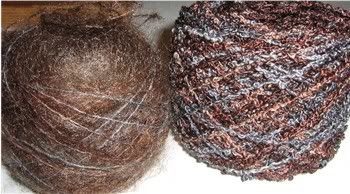 Cashmere/Silk, in (I think) the Paris colourway. Hopefully this will be a Diamond fantasy shawl by spring.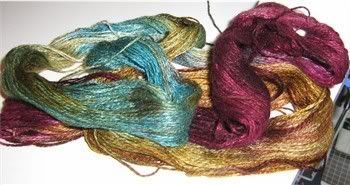 I also have a pair of Mohair/Blue-Faced Leicester fuzzy socks, but I don't have a picture yet. They've been spending too much time on my feet.
And quite a few months ago, I bought 6 skeins of Malabrigo in Azul Profundo. I was going to use it to make tubey, but after casting it on I became apprehensive that the pattern was not going to work for me. Fit issues. I now expect it to become an Hourglass sweater. I'm not particularly rushing on this one, since I won't likely get much wear out of it until next fall.
Pictures of that yarn to come, for those of you who like that sort of thing.