I'm rather impressed with myself. I knit about half a sock this weekend, and I did it without entirely neglecting my kids (my housework, on the other hand...)
I discovered that M is happy to let me knit, as long as he can play with my "ticker" (my clicky row counter) or (once I actually needed the row counter to keep track) my spare ball of cascade fixation- it was still wrapped in plastic, so it didn't even get sticky. I don't know how I'll distract him once I have to start the second ball though. Baby A had a couple of very sleepy mornings, and this is what I ended up with: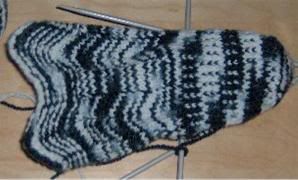 I'm loving the way the colours are turning out, especially the almost polka-dot pattern on the heel (from slipping every other stitch on the knit rows). I made the leg portion shorter than the pattern suggests, because I always turn my socks down when I wear them. I hate slouchy socks. The cuff to heel is about 4 inches.
Of course, I didn't work on the sweater at all. Now I feel guilty. How do people manage several projects at once without any of them getting jealous?